Papworth Hospital PFI
Cambridge
©Andrew Meredith
CLIENT
Papworth Hospital NHS Foundation Trust
SERVICES PROVIDED
Engineering design services
AWARDS
WINNER 'RIBA East Award 2021'
About Papworth Hospital PFI
Troup Bywaters + Anders (TB+A) maintain their reputation of excellence in the healthcare sector by successfully reaching Financial Close for the landmark new Papworth Hospital. Following the highly sought after and competitive bidding stages, TB+A – as part of the Skanska team – has been chosen as the Trust's preferred solution.
The combination of state of the art treatment facilities and a unique model of care will put the new Papworth Hospital at the top of their field.
The project relocates the world famous Papworth Hospital to the expanding Cambridge Biomedical Campus, creating a new 310 single bed inpatient specialist heart and lung hospital with major outpatient's facilities and a hot floor of CCU, 7 theatres, hybrid suites, 5 catheterisation labs and imaging.
The building envelope and engineering system design, combine to deliver energy efficient solutions which exceed the Trust's energy target and greatly exceed the Trust's and Local Authorities carbon and renewable energy targets.
The hospital is the first to achieve an EPC 'B' energy rating which is a fantastic achievement for a specialist hospital.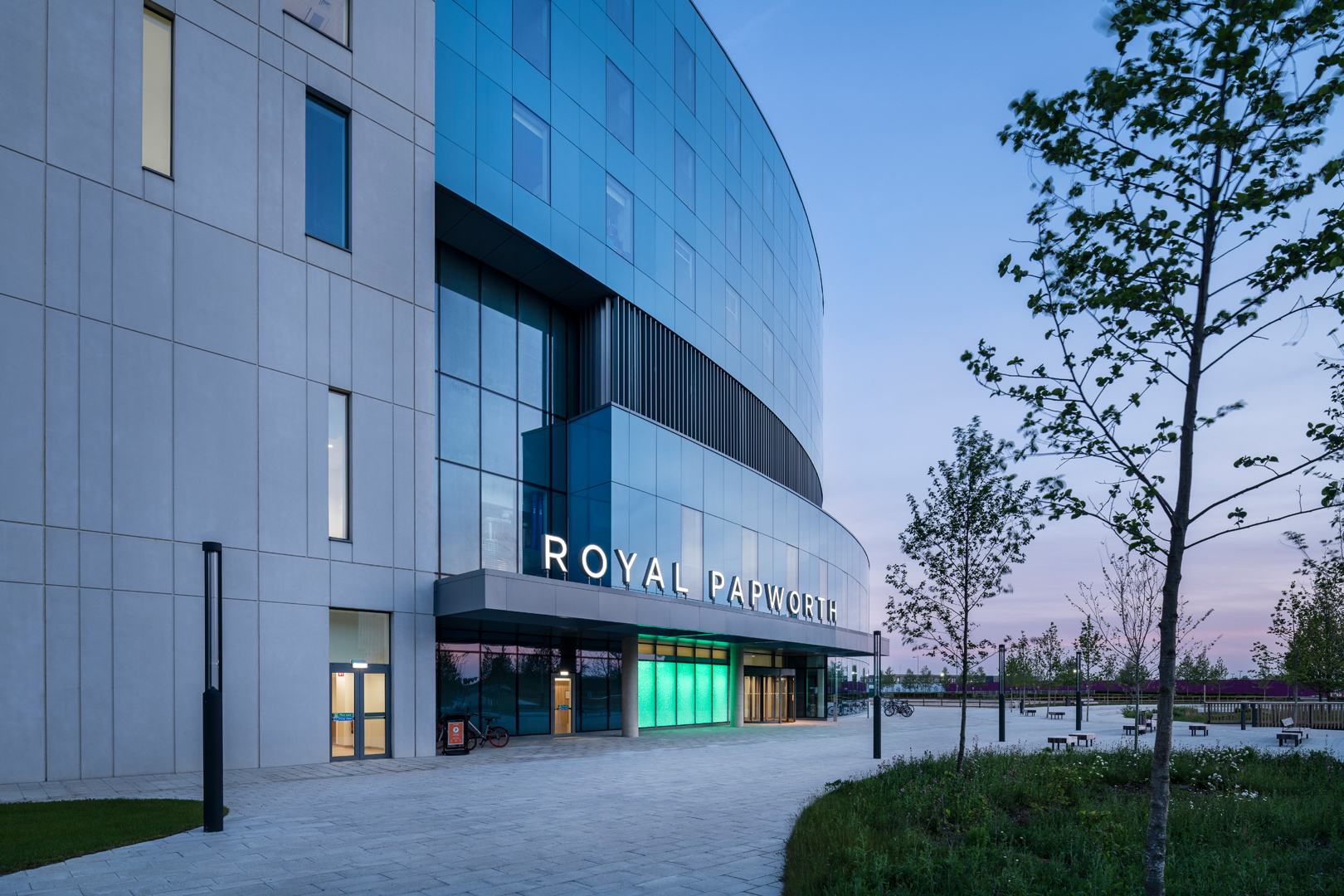 ©Andrew Meredith
The design of the New Papworth Hospital incorporates a number of lessons learnt from our other major specialist healthcare projects, such as St Bartholomew's, including:
Highly resilient electrical infrastructure all the way to point of use
Integrating the latest medical equipment technology whilst allowing for a late procurement solution
Flexibility for change of use by good design and future space allocation for additional plant
Efficient energy centre location and planning
Interstitial plant to minimise vertical services risers
Multi energy source solution to maximise reliability whilst delivering on green credentials such as primary heating and cooling to the building provided via a thermal storage ground source heat pump system with a bio-diesel CHP
"Alan Newman and the TB+A team have been central to the development of our new purpose built and state of the art, Royal Papworth Hospital, ensuring that we have a facility that has enabled our team to deliver tomorrow's treatments today. Recognising the importance of establishing positive and long term relationships, the TB+A values and approach has led to a close working relationship between ourselves, TB+A and partner organisations."