Delivering environments to promote improved learning
Universities, schools and colleges all have diverse needs, functioning as communities in their own right. Their requirements for state of the art teaching facilities, modern living accommodation, sporting amenities, arts and recreational centres are just some of the services demanded by today's education providers and students.
As designers, we are motivated to provide stimulating and creative environments to promote improved learning, from the primary school classroom through to high-tech studio and lecture theatres in universities.
We understand that each educational establishment has its own ethos, personality and values. Acknowledging this, we adapt our approach to provide a service tailored towards the needs of each client and user group and recognise that minimal disruption to the education environment, whether working in holiday periods or term times, is fundamental.
Sustainability and low energy solutions are key in both our design and operational advice. The award winning Burry Port primary school is an example of this, as the first school in Wales to be built and accredited to the very stringent Passivhaus standards. The building is extremely energy efficient whilst also acting as a stimulus for children.
Our education sector lead is a founding member of the Higher Education Design Quality Forum (HEDQF), a registered charity dedicated to promoting high quality design in university campuses, buildings and learning facilities. This means we have the knowledge and calibre of people who are capable of designing environments which give staff and students the best and most enjoyable workplace experience possible.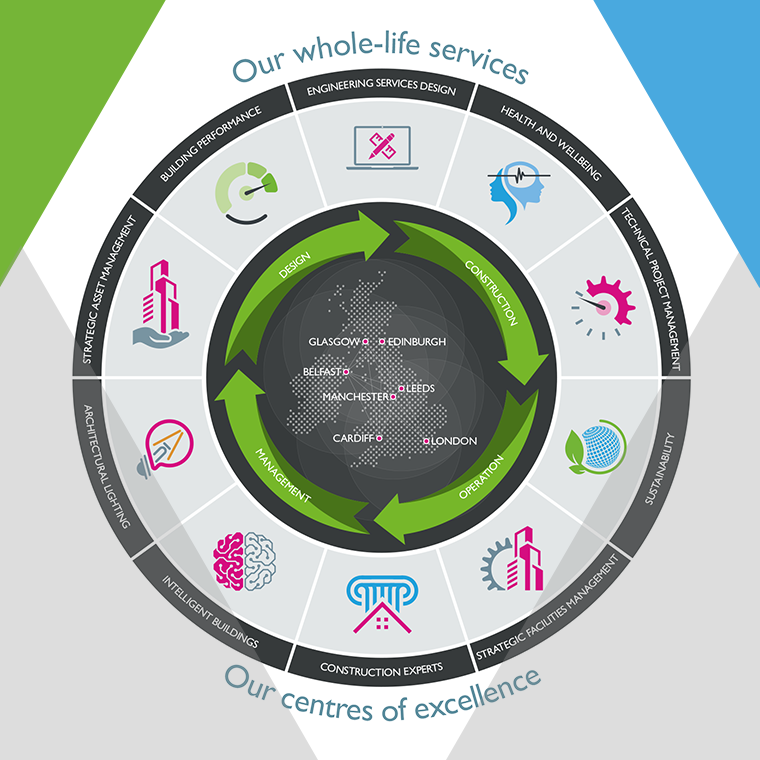 We have an excellent reputation as professional design engineers, but we are far more than that.
Nationally, our teams deliver every service across our whole-life offer to bring you a coordinated and seamless approach with the planning, construction, operation and ongoing management of your property and assets. We achieve this by drawing on our experience, knowledge, resource scalability and resilience to suit your needs.