Engineering services design
A whole-life approach for buildings
It's safe to say we know what we're talking about when it comes to engineering services. It's where we started over 60 years ago and continues to be the foundation of our business.
We deliver all types of engineering services advice and designs across all sectors in the UK and overseas. BIM and digital engineering is fully embedded in our design teams, which when employed, brings long-term costs and programme benefits to your project. We are experienced in either working for an end client or contractor and within any procurement model.
Our services include:
Mechanical, electrical and public health services
Sustainable and renewable technologies
Passive and natural ventilation strategies
Mixed mode ventilation analysis
Vertical transportation-lifts, hoists and escalators
Specialist healthcare and laboratory environments
Net Zero Carbon approach
Building & energy management systems
Utilities negotiations and delivery
Technical investigations
Plant replacement
Feasibility studies and option appraisals
Phased development control plans
Design/Peer reviews
Our Centre of Excellence lead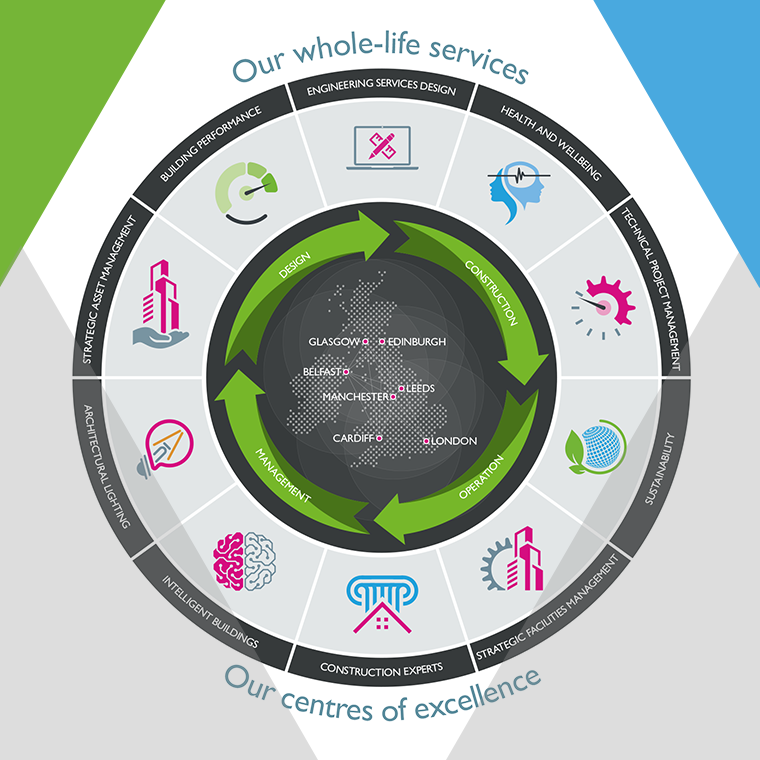 We have an excellent reputation as professional design engineers, but we are far more than that.
Nationally, our teams deliver every service across our whole-life offer to bring you a coordinated and seamless approach with the planning, construction, operation and ongoing management of your property and assets. We achieve this by drawing on our experience, knowledge, resource scalability and resilience to suit your needs.