Sustainability
A whole-life approach for buildings
Your investment in sustainability will be set by what you have to do to comply with legislation and what you want to do in delivering your business objectives.
By exploring and understanding your aims we will shape this into a cost-effective delivery model based around a set of services. Our designers, project managers and leaders are all experienced in delivering bespoke sustainable solutions drawing on sector specific technical knowledge.
Our services include:
BREEAM Pre, design and post construction assessments
BREEAM Accredited Professional services
Environmental performance reviews, including water usage, recyclable materials and waste
Code for sustainable homes
Sustainability statements for planning
Low and Zero Carbon (renewable) technologies feasibility studies
Energy strategies
Energy and carbon benchmarking and reduction advice
Building regulations compliance reviews and calculations
Air Conditioning Inspections
Materials
Embodied Energy
Sustainable Urban drainage advice + LEED assessment services and advice
Air Quality advice (indoor and outdoor)
Water usage / low water fitting advice
Our Centre of Excellence lead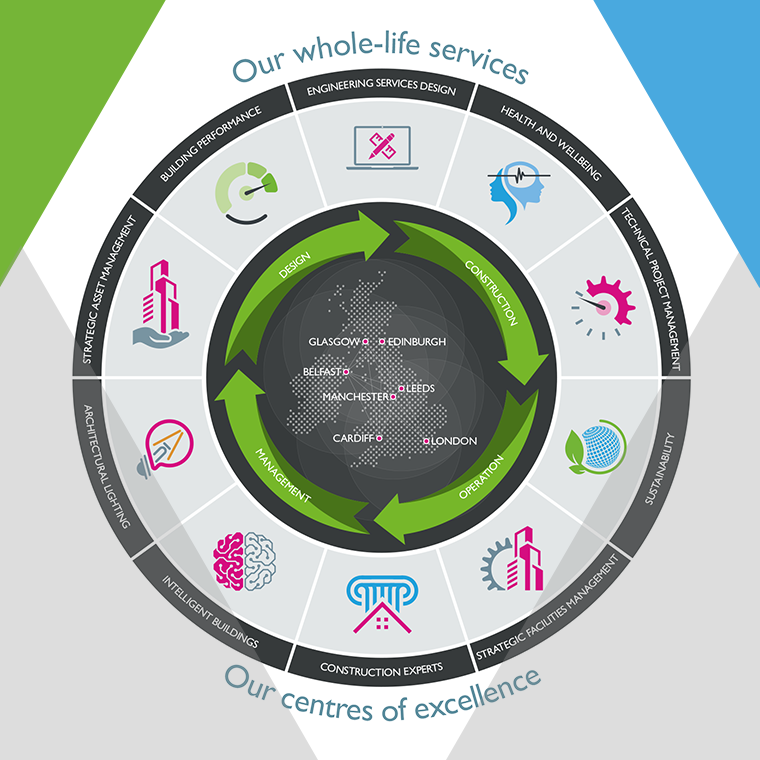 We have an excellent reputation as professional design engineers, but we are far more than that.
Nationally, our teams deliver every service across our whole-life offer to bring you a coordinated and seamless approach with the planning, construction, operation and ongoing management of your property and assets. We achieve this by drawing on our experience, knowledge, resource scalability and resilience to suit your needs.