Our long-standing relationships
In our long-standing working relationships with government bodies, ministerial departments and local authorities we have delivered a broad range of projects from initial feasibility studies and surveys right through to estates strategies, project management and infrastructure design.
As far back as the 1970's we were commissioned to undertake a number of high profile refurbishment and upgrade projects in Whitehall. This was followed by major projects for research establishments during the 1980's and 1990's on rationalisation programmes across the UK.
Currently we are appointed through various framework agreements to complete estate wide projects. We provide technical support to estate teams in the operation, maintenance and change of their portfolios and are often appointed as part of the client's teams supporting them through every step of their journey.
These services range from specification and clerk of works roles, to detailed infrastructure and life cycle analysis of critical buildings for local borough councils. The work we undertake as part of a strategic asset management plan informs the overall estates strategy helping to determine risk, optimise financial budgeting, maximise workspace utilisation, facility suitability and accommodation options.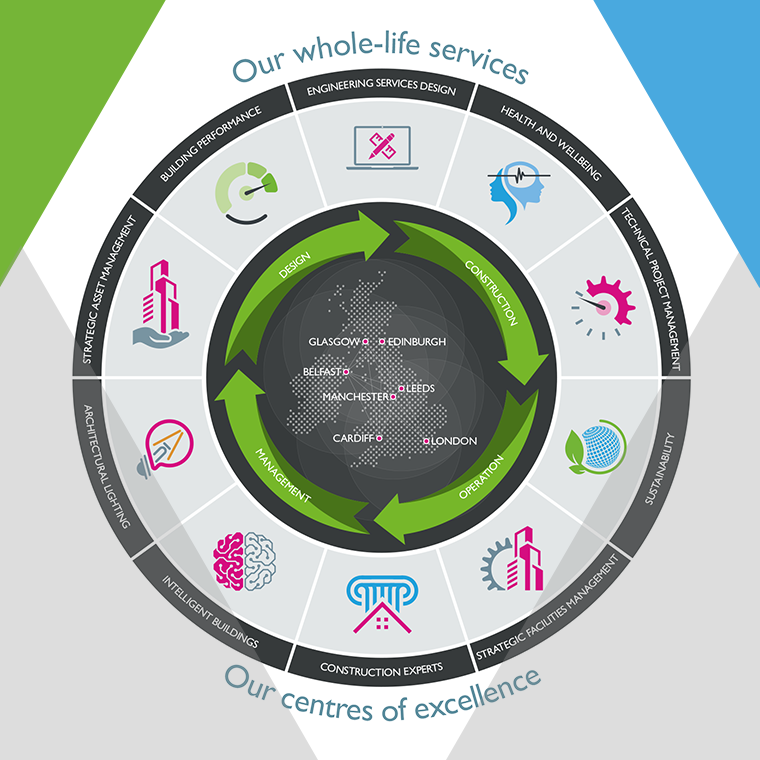 We have an excellent reputation as professional design engineers, but we are far more than that.
Nationally, our teams deliver every service across our whole-life offer to bring you a coordinated and seamless approach with the planning, construction, operation and ongoing management of your property and assets. We achieve this by drawing on our experience, knowledge, resource scalability and resilience to suit your needs.