Plymouth History Centre
Plymouth
SERVICES PROVIDED
Engineering services design
Carbon planning
About Plymouth History Centre
TB+A was appointed for M&E design and carbon management planning as part of a multi-discipline team to find a suitable location for the much needed housing for the archives of Plymouth. Following extensive feasibility studies and Options Reports a location in the heart of the City was selected.
The Grade I listed building on the site of the existing Plymouth Library and Plymouth City Museum, will be the home to the new History Centre comprising a major archive storage facility, galleries, retail and other public use spaces.
The main challenge on this project involved integrating the existing Library and Museum buildings with the new archival storage building to form an efficient and major visitor attraction facility for the region. Compliance with PD5454 2012 was required for the archival storage to meet the requirements of The National Galleries Standards.
Specific archival elements include Artworks, Ceramics, Textiles, Natural History, Film Archive, Photographic Archive. 
Extensive stakeholder involvement was undertaken to determine the specific requirements for each element of the new facility, co-ordinating the services and functions of the spaces.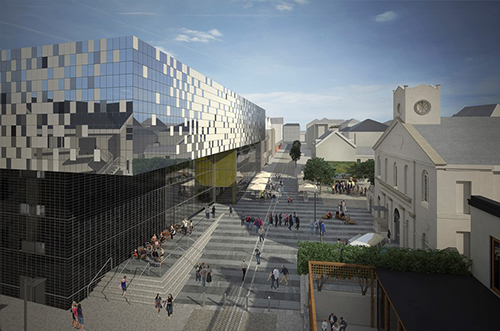 An emphasis upon sustainable development led to the detailed consideration of the impact the facility will have in introducing the people of Plymouth and surrounding areas to the wonders of the historical artefacts available to them.
The work undertaken led to the completion of a "controlled scheme"